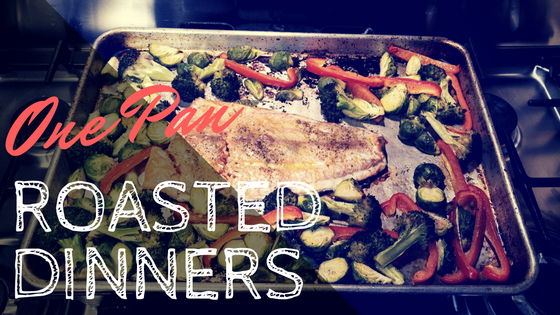 This is the easiest dinner option ever, especially if you have done the vegetable preparation in advance. It is also a great technique for meal prepping!
Directions:
To a single cookie sheet add the following:
Add 3-5 cups of vegetables of choice to a bowl. (See vegetable combinations below.) Make sure they are all relatively the same size so they cook evenly. Coat evenly with cocoanut oil, butter or Ghee and spice combination of choice.
Place protein of choice (3 oz per serving) on a cookie sheet and coat with healthy fat of choice and seasoning mixture. Place oiled vegetables around protein evenly.
Place in 400 degree preheated oven for 20-30 minutes; shaking or flipping vegetables half way through. Eat right out of the oven and then refrigerate the rest to use during the week.
Find roasting times for different types of meat.
Vegetable Combination Options based on cooking times:
Longer cooking time (30 minutes +):
Potatoes
Sweet potatoes
Carrots
Parsnips
Rutabaga
Winter squash
Brussels sprouts
Average cooking time (about 20 to 30 minutes):
Turnips
Onions
Cauliflower
Broccoli
Sugar snap peas
Quartered shallots
Fennel
Whole garlic cloves
Quick cooking time (under 20 minutes):
Green beans
Mushrooms
Shallots or onions
Eggplant
Tomatoes
Spice Combinations:
Curry
2 Tbsp cumin powder
2 Tbsp coriander
2 Tbsp turmeric
2 Tbsp ground cardamom
1/2 tsp cinnamon
1/2 tsp cayenne pepper
1/2 tsp pepper (more to taste as desired)
salt to taste to finish
Italian
2 Tbsp dried basil
2 Tbsp dried oregano
2 Tbsp dried thyme
2 Tbsp rosemary
1 Tbsp garlic powder
1/4 tsp onion powder
salt and pepper to taste
Mexican
2 Tbsp chili powder
2 Tbsp ground cumin
1 1/2 tsp onion powder
1 1/2 tsp garlic powder
1/2 tsp cayenne pepper
1/2 tsp black pepper
1/2 tsp salt
1/2 tsp oregano
Greek
1 Tbsp garlic powder
1 Tbsp dried basil
1 Tbsp dried oregano
1 1/2 tsp salt
1 1/2 tsp black pepper
1 1/2 tsp dried parsley
1 1/2 dried rosemary
1 1/2 dried thyme
3/4 ground nutmeg