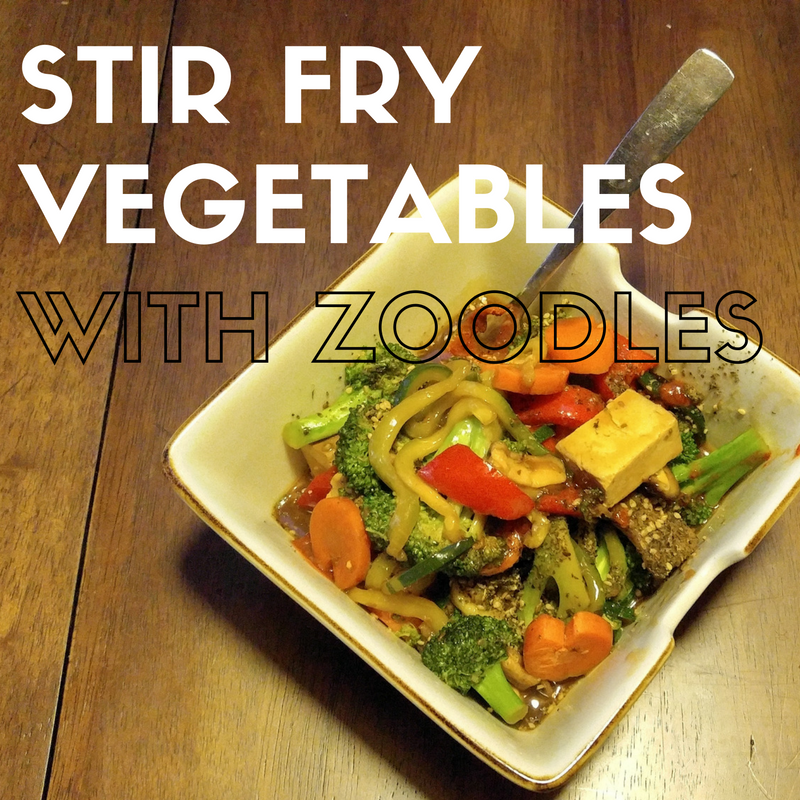 Makes enough for 3 to 4 servings.
3 tablespoon, Oil – Sesame
2 cups sliced shiitake mushrooms
1 chopped large head of broccoli,chopped into bite sized pieces
1 red bell pepper, chopped into bite sized pieces
12 ounce, Extra Firm Tofu (or prepped protein of choice), chopped up into bite sized pieces
1 medium, sliced into bit sized rounds
2 cup zoodles zuchini
1/4 cup bone broth (or vegetable stock) to add to pan as needed while the vegetables cook
Sauce
3 Tbsp, Tamari (or liquid aminos)
4 Tbl, rice vinegar
2 tsp(s), lime juice
1 tsp(s), honey
1 tsp, ginger
2 clove, garlic, raw
Instructions
Clean and chop all of your vegetables and items for your sauce. Zoodle your zucchini.
Make the sauce. Stirring together the tamari, rice vinegar, lime juice, honey, ginger, garlic, and 1 table spoon of the sesame oil. Set aside.
Heat the 2 Tbs oil in a large skillet or walk over medium heat. Add the broccoli, stir to coat then let cook 4 to 5 minutes stirring often so that the vegetables don't burn. If the oil is not enough, add a few tablespoons of the stock to help continue cooking without having to add additional oil.
As broccoli starts to look tender add mushrooms, carrots and shitake mushrooms, and chopped protein then stir to coat. Add a few more tablespoons of bone broth, stir then cover for 4 to 5 minutes.
Once vegetables are about ready add the sauce and stir to coat. Let cook for a few more minutes until done.
Once cooked sprinkle with sesame seeds. Serve with brown rice or noodles if desired. Spice it up with chili sauce, soy sauce, liquid aminos or fermented chili oil!
If you want to save time you can also use a pre made sauce, like the one below
Nutrition
This information is just for the stir fry, not including any added rice.
Nutrition Facts
Servings 4.0
Calories per serving 333
Total Fat 19 g 30 %
Saturated Fat 3 g 14 %

Monounsaturated Fat 6 g
Polyunsaturated Fat 5 g
Trans Fat 0 g

Cholesterol 0 mg 0 %

Sodium 472 mg 20 %

Potassium 336 mg 10 %

Total Carbohydrate 30 g 10 %

Dietary Fiber 6 g 25 %

Sugars 12 g

Protein 15 g 30 %

Vitamin A 92 %

Vitamin C 108 %

Calcium 15 %

Iron 14 %
Recipe Inspired by: http://www.loveandlemons.com/sesame-broccoli-shiitake-noodles